So you're in the Event Entertainment Industry?
You may run a band, be a pro DJ, play an instrument, entertain people or provide event hire services. No matter what entertaining you do, the one thing in common is that you need to keep getting paid gigs in the diary to survive.
There are lots of ways to do currently do this: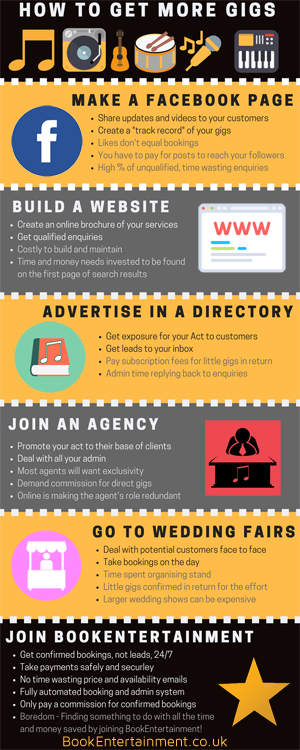 Start a facebook page
Pros: Facebook is great, you can share updates, post videos, post photos and accumulate "likes". Your facebook page is like a track record of your act and will reassure customers on how busy / good you really are.
Cons: A facebook page doesn't make for a very good promotional website. Only a small percentage of the people who like your page will ever see your updates. Most of the time, people who make enquiries on your facebook page are unqualified leads. People on your facebook page are "Just looking" and are hard to convert to a booking.
Build a website
Pros: You can build your own website to promote your Act. Customers can see an online brochure of what you do and can make an enquiry to your phone or email. Visitors who are on you site are qualified and have a good chance of making an enquiry.
Cons: Websites aren't cheap and once you have your website built you need to attract visitors. For that you need to learn or pay for SEO (Search engine optmisation) to get your webpage found on the search engines. The problem with this is that you could be one band out of 100's in your local area all competing for space on the first page.
Advertise in a web or event directory
Pros: Some web directories can provide you with leads and enquiries. If you perform at weddings have a look at advertising in the bridal directories.
Cons: Web and event directories are basically advertising. This means the people viewing your ad are generally unqualified and leads will be hard to convert into sales. Some wedding directories can charge premium prices with no work guaranteed in return.
Join an entertainment agency
Pros: An entertainment agent will deal with all your enquiries, promotion and booking admin in return for a commission for each booking. Often the agent will charge you a percentage and the client an additional fee on top. If your act is not your main job then an entertainment agent can help you get paid bookings without much work.
Cons: Most entertainment agencies will want full control and exclusivity of your Act. This means handing everything over for the Agent in return for paid bookings. Quite often entertainment agents do not deliver on the bookings promise and will demand commission for events that you have booked privately. Some agents send Acts to unsuitable events just to cover their quota. Breaking up with your agent can result in legal battles and bad feeling. Entertainment agents are a middle man and are becoming redundant in this age of technology.
Attend a Wedding Fayre
Pros: If your Act performs at weddings, taking a stand at a wedding fayre will directly put you in front of your customers. You can speak with them, hand out promo material and take bookings on the day.
Cons: You have to invest money in making your booth stand out at a wedding fayre. There are a lot of wedding fayres and this is leading to saturation with decreasing footfall at shows. Wedding fayres take up a lot of time to get leads with a low booking rate in return. Large wedding shows are expensive for a small amount of bookings in return.
Act Admin
Once you have sorted your promotion, you will also need to administer your entertainment business to ensure you get paid gigs.
You will have to:
Respond back to customer emails and social media messages to check price and availability

Wait for customers to get back to you

Do admin work on each booking

Chase payments from customers

Accept payments via card using paypal (3%) or pay £40/month for a merchant bank account and chip/pin
Gigging at events is the fun part and the Admin is the boring part that takes up a lot of time. Would it be great to have one service that does everything?
Well that's why we have created BookEntertainment
With BookEntertainment you can:
Setup your own profile with videos, images, sound bites and a writeup

Be found on the first page of search results in your area

Set your own prices and adjust them for different dates

Sync your diary or google calendar

Let customers check your availability 24/7 and book you instantly, without all the time wasting emails

Take card payments automatically from the customer, before you perform without the need for a merchant account or paypal

Perform booking admin easily with integrated booking system
Its free to register and you only pay a commission of 15% when you get a paid gig. There are no monthly fees or hidden costs, it's simple!